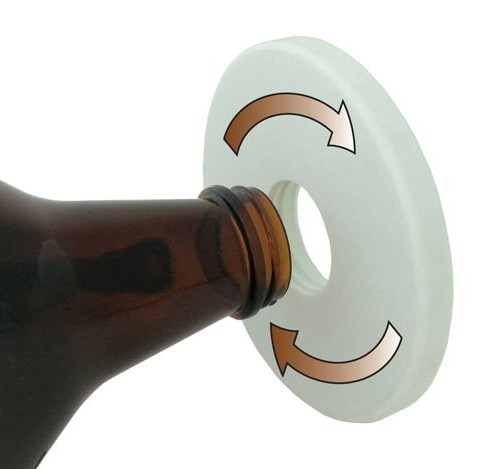 What is a Growler Collar?
It's the perfect beer growler dryer! Growler Collar™ is a five inch diameter disc that threads onto the top of amber and clear glass 64 oz and 32 oz cider and beer growlers, allowing beer and cider drinkers to turn their growlers 'Bottoms Up!' after rinsing them so air can eddy within the cider or beer growler as water drips out. It's a growler dryer.
A cider or beer growler is a 64 or 32 oz, clear or amber glass jug. The "green" way to take home draft beer, hard cider, mead, root beer or wine.
The term 'growler' dates back to the late 19th century when fresh beer was carried from the local pub to one's home by means of a small-galvanized pail. It is claimed the sound that the CO2 made when it escaped from the lid as the beer sloshed around sounded like a growl.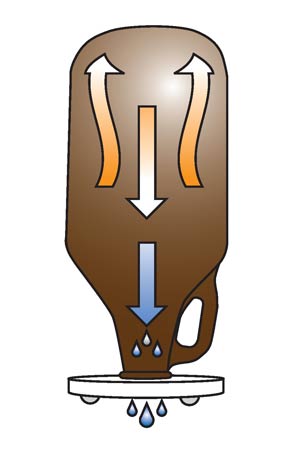 Easy to Use
This beer growler dryer is easy to use. Just thread the Growler Collar™ on the top of a growler and turn it 'Bottoms Up!' It's the safe and fast way to clean, drain and dry your cider or beer growler with no fuss or hassle.

Rinse Growler with very hot water, twice.
Attach Growler Collar™ – feet up.
Invert Growler and place on counter to drain and dry.
When growler dries (appx. 12-24 hrs. +/- depending on humidty) remove Growler Collar™.
Replace cap. Your growler is now ready to refill.

Please Note: Do not place Growler Collars™ on hot surfaces or stoves, whether attached to a growler or not. Plastic composites are flammable.
Custom Imprinted Growler Collars
Custom Printed Growler Collars™ are a great way to promote your craft brewery, taproom, Growler filling station, or related business. Get your logo, image or branding on the top of a Growler Collar™.
Use the template below for designing your custom Growler Collar™. Download the PDF. Have your designer add your logo or graphic. Then submit it to us.

Please use the specifications below for your return file:
Please submit your graphic file as line art.
Acceptable formats include .AI, .EPS, and .PDF files created in vector format.
Do not submit .JPG, .BMP or other low-resolution graphics.
Turn all fonts to outlines.
24 stock colors are available… see color palette below.
Second colors are available. Additional printing and set up fees apply (see below).
Custom Growler Collar Ordering Notes
Please note: the outside diameter of the Growler Collar™ is 4.8 inches. The diameter of the inside hole is 1.5 inches.
If you're interested in custom Growler Collars™ please contact Staton Lorenz at:
(231) 492-2121
Or contact us online now…
Custom Growler Collar Gallery
Check out all the custom Growler Collar™ graphics we've done for businesses and organizations. These are several of the Growler Collars we've made that are currently in circulation.
A Growler Collar™ with your company's logo is the perfect accessory to a custom growler. Additionally, you can purchase Growler Collars™ in our own "Hops Wreath", "Hard Cider", and "Brewed in America" designs. To view the custom Growler Collars™, just click on the thumbnails, the image will open in a larger overlay.
Buy Growler Collars
Bone White $12
Hops Wreath $24
Hard Cider $12
Brewed in America $13
New – Reduced Shipping Rates (Buy 2 or more & Save On Shipping!)
Growler Collar in the News
People are excited about the Growler Collar™. We've been featured in several publications recently including Lisa Morrison's 'Innovations' column for Beer Advocate magazine.
Here are a few more articles about the Growler Collar™.
Articles About Growler Collar
Friends of the Growler Collar
Please take a moment to visit some of our online friends and partners. We've also included links artisan and craft beer info. Growler Collar™ Creator Staton Lorenz wrote this review of the 3rd Annual Traverse City Microbrew & Music Festival.
Growler Collar Friends & Partners
Contact Growler Collar
If you'd like to contact us please use the information below. We'd love to hear from you.
Growler Dryer Evolution
Necessity is the mother of invention and the Growler Collar™ is no exception. Bringing home a 64 oz. growler of delicious craft beer presented a problem once it was empty, the growler couldn't be washed in the dishwasher and it wouldn't dry simply standing on the counter. Also, no air could circulate through the growler and it was VERY unstable, almost skittish, on the countertop.
Research showed there was no beer growler dryer on the market that provided a stable, compact, draining, and drying device to solve the problem of returning a clean and dry growler for a refill. No craft brewery wants their favorite suds to blend with bacteria and other funk that thrives in a moist, warm cider or beer growler for a few days between fill-ups.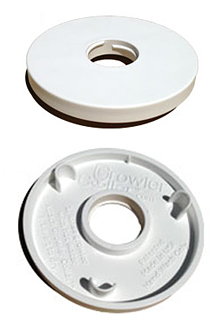 So… one morning at 4am the idea came to me – a gift from God, a simple disc, elevated on three non-slip feet. The desire to make Growler Collar™ in the USA led to the current composite that's injection-molded here in Michigan.
I'm proud to say "Growler Collar™ is made in the USA… just like your favorite craft brew, hard cider, mead or wine… Bottoms Up!
Giving Back
Growler Collar pledges to distribute up to 10% of net proceeds to local, regional, national and international aid and/or missions each year. Thank you for your support.